Welcome to the Martin County Historical Society! Our Mission is to preserve and share the history of Martin County by acquiring, conserving, appropriately displaying, and making it accessible for viewing, research, and educational purposes. We hope you enjoy the many features of our site; please contact us if you have any questions or requests. Thank you for taking the time to enjoy Martin County's History!
---
MCHS Updates
May 27th
The Museum and Parsonage will be open from 11:00am to 1:00pm on Memorial Day (Monday, May 30th) in conjunction with the Red Rock Center's Outdoor Activities! Stop on down!
---
MCHS Recent Happenings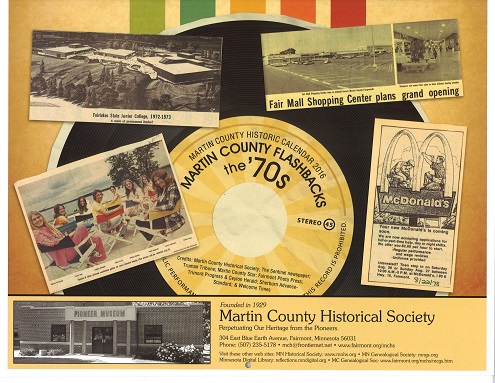 - We have plenty of 2016 MCHS calendars left for sale at the Museum; stop on down to pick one (or more) up for $5 each or call to order some and we can mail them to you for $8 each! See more on our Products page!