Welcome to the Martin County Historical Society! Our Mission is to preserve and share the history of Martin County by acquiring, conserving, appropriately displaying, and making it accessible for viewing, research, and educational purposes. We hope you enjoy the many features of our site; please contact us if you have any questions or requests. Thank you for taking the time to enjoy Martin County's History!
---
MCHS Updates
November 24:
We may still be having issues with our website. While everything should be back to normal we are still checking for bugs and errors. If you notice any bugs and errors yourselves please do inform us. It may not be fixed immediately but it will be addressed.
NOTE: The Museum will be closed Thursday, November 26th and Friday, November 27th for the Holidays. Happy Thanksgiving!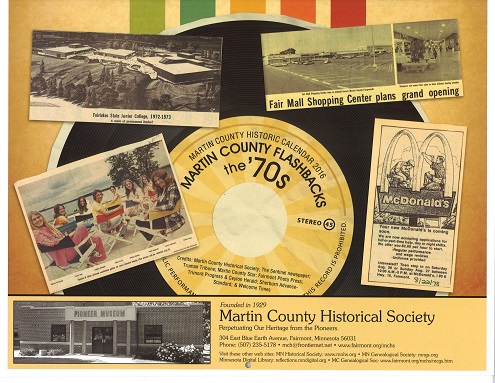 Our 2016 MCHS Calendars are available for sale. This year the theme is the 1970s! The cost is $5 per calendar so stop down to the museum to pick one up today! If you are unable to come in write to us, call us, or email us your order and we can mail them to you or your loved ones and friends. (There is an extra $3 per calendar Mailing Fee).
Hope you enjoy!

-James Marushin
Curator-
P.S. Don't forget that the Martin County Historical Society is now on Facebook! So if you are a Facebook user, come visit our page and/or "Like" us to stay connected with MCHS!