Welcome to the Martin County Historical Society! Our Mission is to preserve and share the history of Martin County by acquiring, conserving, appropriately displaying, and making it accessible for viewing, research, and educational purposes. We hope you enjoy the many features of our site; please contact us if you have any questions or requests. Thank you for taking the time to enjoy Martin County's History!
---
MCHS Updates
July 5:
We may still be having issues with our website. While everything should be back to normal we are still checking for bugs and errors. If you notice any bugs and errors yourselves please do inform us. It may not be fixed immediately but it will be addressed.
Allow me to bring you all up to speed on what the Martin County Historical Society has been up to! Click the picture below to see all of the great events and visitors that we've had this Spring/early Summer: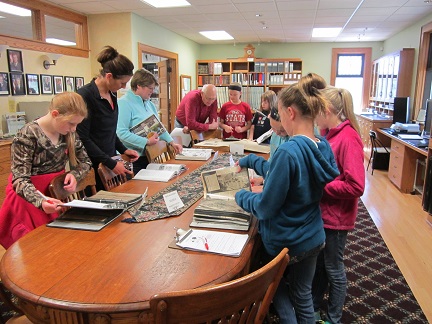 Example of our busy schedule: St. John Vianney students stopped by for an awesome tour!
Also, we wish to mourn the passing of Ray "Bus" Kesler, Jr. and Steve Pierce. Bus was a well-loved utility person/handyman that worked at the museum for over a decade and was a joy to work with and a font of local history knowledge. Steve Pierce was also a very large supporter of local history including the MCHS. We will greatly miss both of these fine gentlemen.

-James Marushin
Curator-
P.S. Don't forget that the Martin County Historical Society is now on Facebook! So if you are a Facebook user, come visit our page and/or "Like" us to stay connected with MCHS!