Welcome to the Martin County Historical Society! Our Mission is to preserve and share the history of Martin County by acquiring, conserving, appropriately displaying, and making it accessible for viewing, research, and educational purposes. We hope you enjoy the many features of our site; please contact us if you have any questions or requests. Thank you for taking the time to enjoy Martin County's History!
---
MCHS Updates
November 1:
The Martin County Historical Society & Red Rock Center for the Arts invites the public to a book talk on the World War I pride and prejudice that divided people across Minnesota, particularly the counties of Goodhue, Jackson, and Martin, on November 8th. Patriot Hearts: World War I Pride and Prejudice in a Minnesota County was published by the Goodhue County Historical Society in June 2017. The talk with begin at 6:00 p.m. in the Red Rock Center for the Arts. Free admission, refreshments will be served.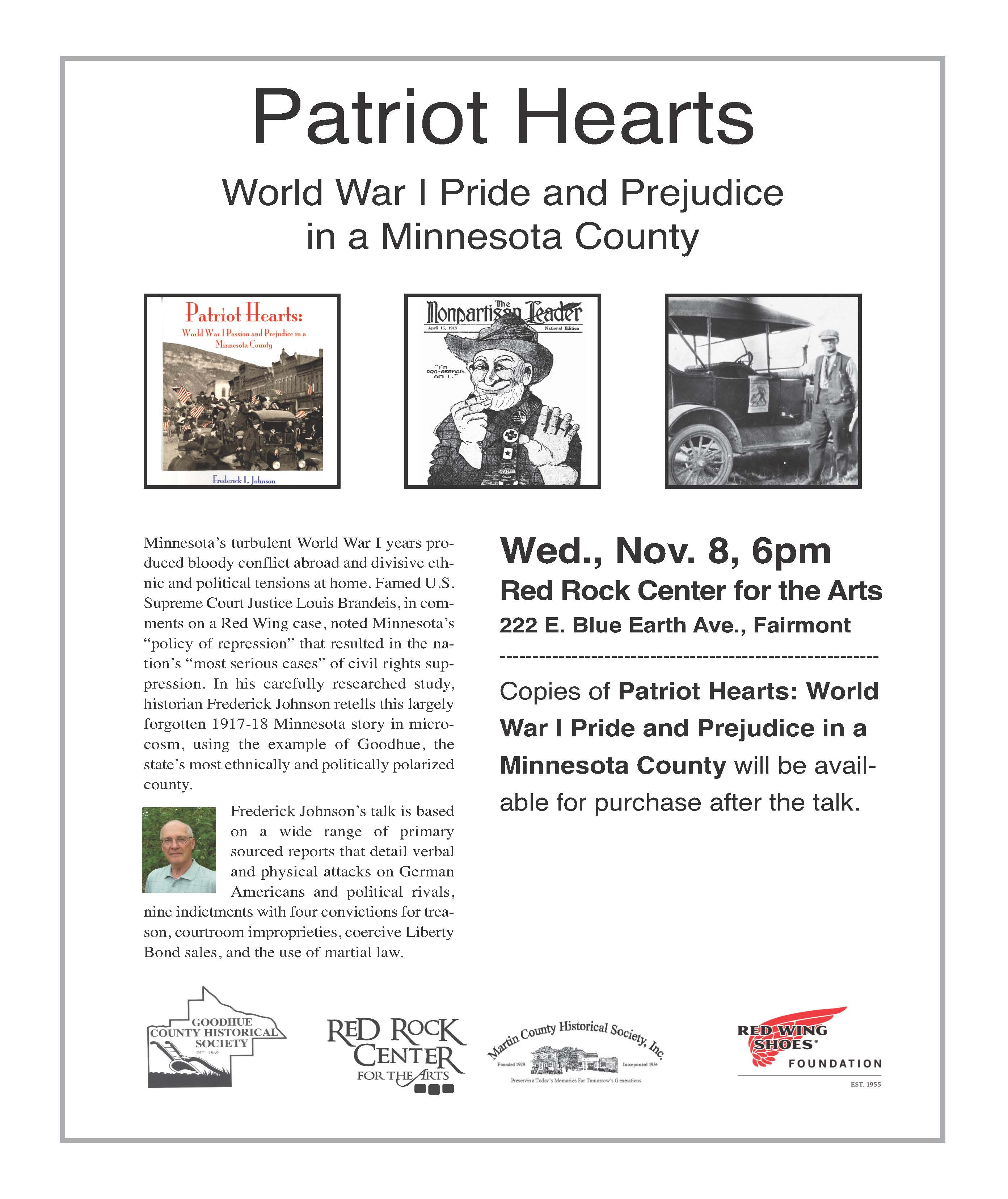 Minnesota's turbulent World War I years produced bloody conflict abroad and divisive ethnic and political tensions at home. Famed U.S. Supreme Court Justice Louis Brandeis, in comments on a Red Wing case, noted Minnesota's "policy of repression" that resulted in the nation's "most serious cases" of civil rights suppression. In his carefully researched study, historian Frederick Johnson retells this largely forgotten 1917-18 Minnesota story in microcosm, using the example of Goodhue, the state's most ethnically and politically polarized county.
Johnson's talk is based on a wide range of primary sourced reports that detail verbal and physical attacks on German Americans and political rivals, nine indictments with four convictions for treason, courtroom improprieties, coercive Liberty Bond sales, and the use of martial law. After the talk, attendees may purchase copies of Patriot Hearts and have them signed by the author.
Frederick Johnson has to his credit twelve books about Minnesota history along with numerous magazine articles in respected journals including Minnesota History, Aviation History, Minnesota Genealogist, MinnPost, and MNopedia. The American Association for State and Local History gave his 2008 book Richfield: Minnesota's Oldest Suburb a special award for exceptional scholarship. Johnson's The Big Water (Deep Haven Press, 2013) has been called the "definitive" history of Minnesota's famed Lake Minnetonka.
Sponsorship for this event provided by the Martin County Historical Society & Red Rock Center for the Arts and the Goodhue County Historical Society in Red Wing along with funding from the Red Wing Shoe Company Foundation.
The Martin County Historical Society & Red Rock Center for the Arts are partnering in providing the public the opportunity to learn about the effects of World War I locally regarding civil rights in Martin County.

The Goodhue County Historical Society, located in Red Wing, MN, was founded in 1869 as the first county historical society in Minnesota. It operates the Goodhue County History Center, which features 15 separate exhibit spaces, research library, meeting room, and museum store. To learn more about the Goodhue County Historical Society, visit their website at www.goodhuecountyhistory.org.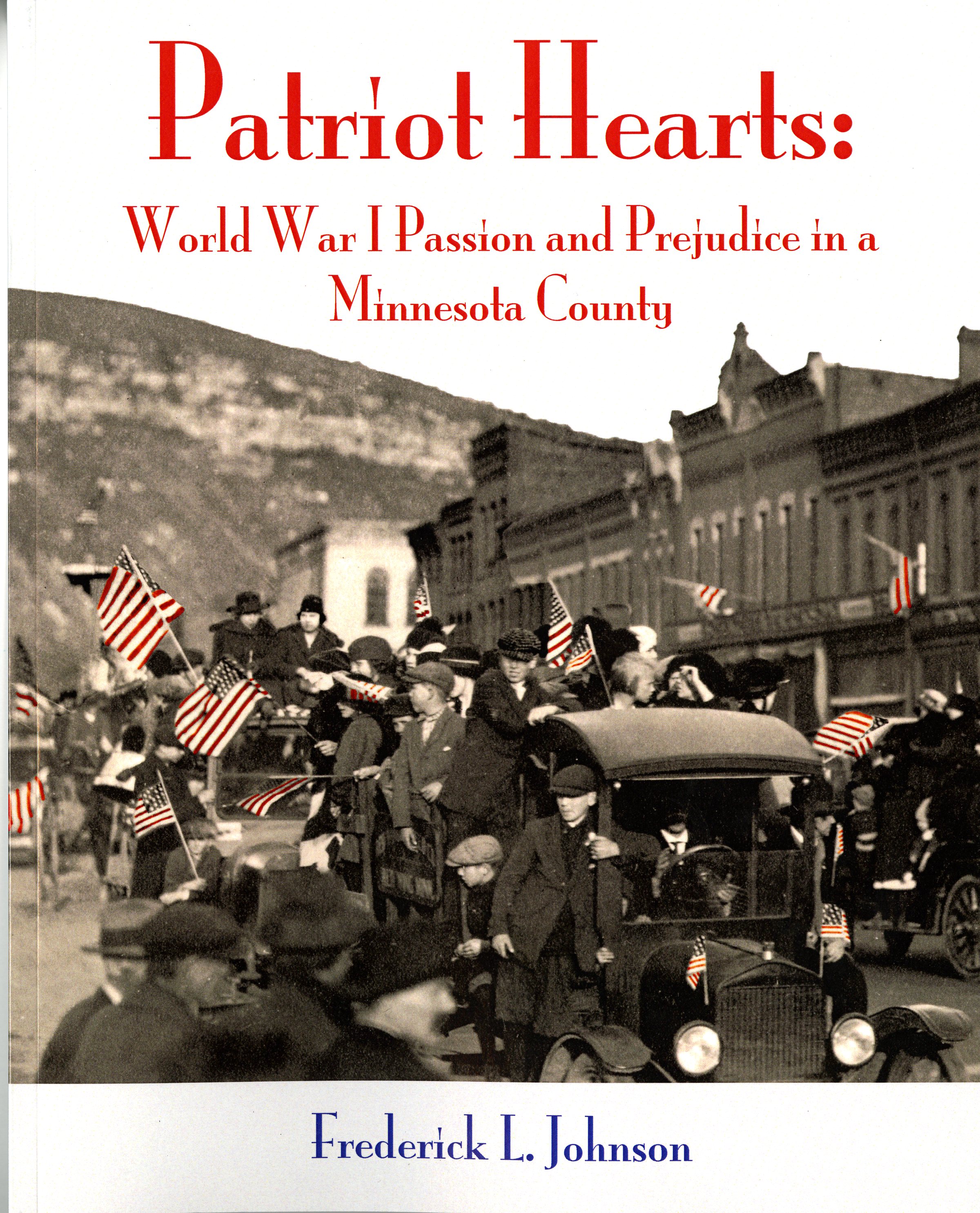 ---
MCHS Happenings
If you haven't seen our promotional video, check it out below!
Again, thanks to everyone who supports the Martin County Historical Society through donations, visits, memberships, kind words, and so much more!