Welcome to the Martin County Historical Society! Our Mission is to preserve and share the history of Martin County by acquiring, conserving, appropriately displaying, and making it accessible for viewing, research, and educational purposes. We hope you enjoy the many features of our site; please contact us if you have any questions or requests. Thank you for taking the time to enjoy Martin County's History!
---
MCHS Updates
July 1:
Note: The museum will be open from 11:00am to 1:00pm on Monday, the 4th of July. Have a happy and safe 4th of July weekend everyone!
Don't forget, as well, about our to a project to create a book documenting Martin County Businesses, professional organizations and non-profits, both current and those no longer in existence such as The Redwood, Enderson's Clothing, The Sirloin House, etc, in a book tentatively entitled: "Martin County Businesses – Today and Yesterday."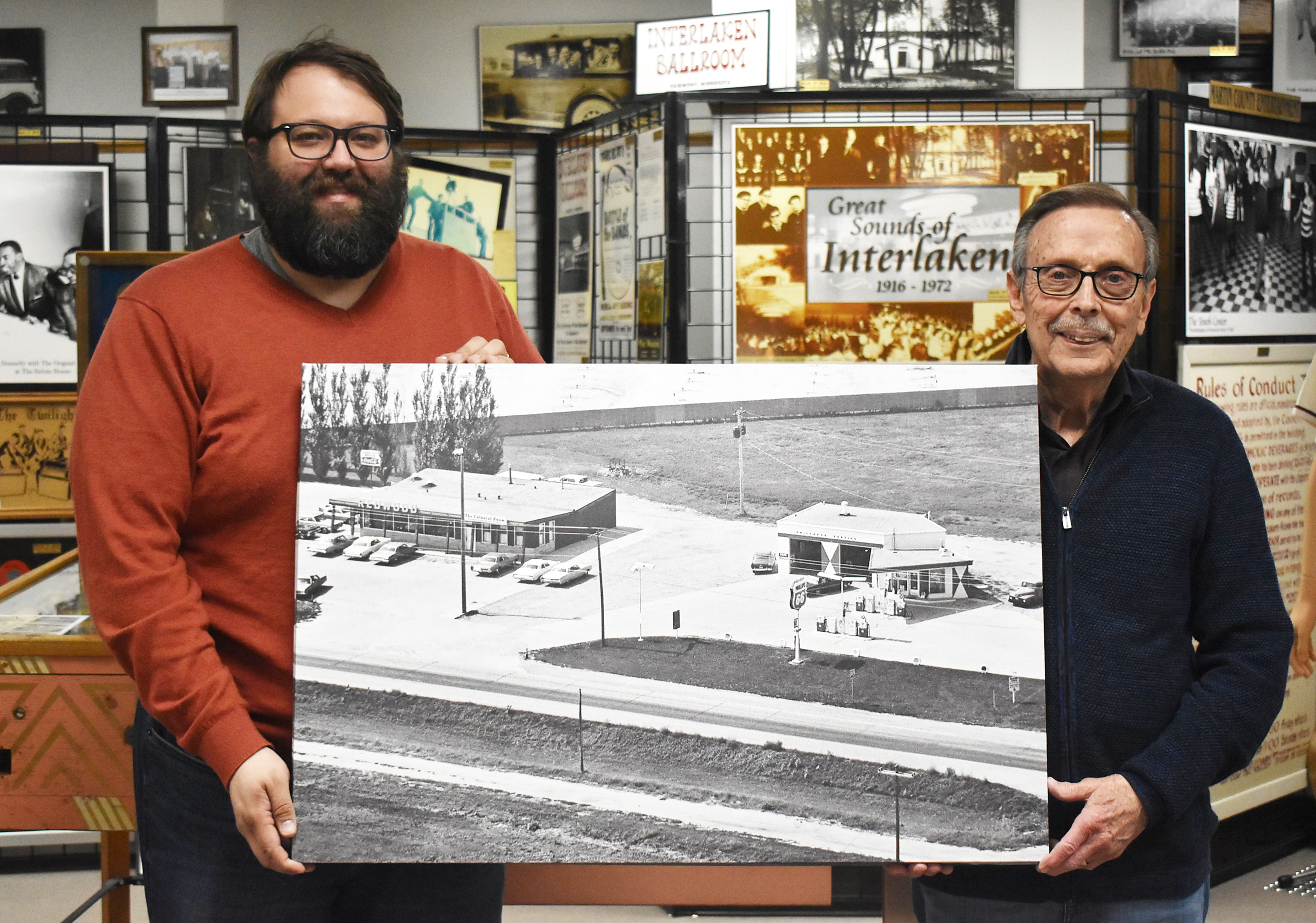 Jim and Lenny show off a picture from the museum showing The Redwood and Poppe's Gas Station
This book is intended to be a documented history of businesses in Martin County and we encourage all Martin County businesses/professional organizations and nonprofits to participate and provide information and photos, both current and historic (such as the one in the picture, for example.
The question-and-answer format is provided for each participant to easily convey their information. The historical society staff will then create the story of each business based on the feedback provided. Each participating business will then have the opportunity to edit and approve the final copy prior to inclusion in the book.
We are asking current and former Martin County businesses that would like to have their business/professional organization/nonprofit included in this book that have any questions to contact Lenny Tvedten at the Martin County Historical Society at (507) 235-5178 or by email at edirectormchs@gmail.com
---
MCHS Happenings
If you haven't seen our promotional video, check it out below!
Again, thanks to everyone who supports the Martin County Historical Society through donations, visits, memberships, kind words, and so much more!