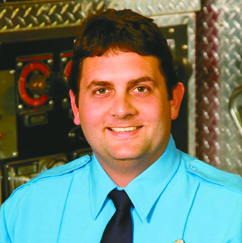 Brandon Scott
Fire Chief
216 East 4th Street
Fairmont, MN 56031
Non Emergency (507) 235-5289
Emergency 911
email
Fairmont Fire Department, founded in 1800 is a volunteer/paid on call fire department. The Fairmont Fire Department is located at the junction of Interstate 90 and U.S. Highway 15, in south central Minnesota, and proudly protects a response area of approximately 228 square miles and 15,000 residents.
Our response area consists of residential, industrial, farm and wild land. In addition to responding to calls within city limits, the Department assists with emergency efforts of the surrounding townships of Center Creek, East Chain, Fairmont, Fraser, Pleasant Prairie, Rolling Green, Rutland and Silver Lake. Fairmont Fire Department also provides mutual aid for our neighboring communities as needed.
To meet the needs of our community and the surrounding areas, all firefighters receive extensive training. The minimum training requirements include: NFPA 1001, MN First Responder and HazMat Operations Level. Many of our volunteers receive training in more technical fields such as, Advanced Auto Extrication and Technical Rescues, such as confined space, high level, grain bin and water.
27,640 total views, 9 views today